Ever found yourself constantly checking on a crucial shipment's progress?
Or maybe you're a supply chain manager navigating the complex web of multi-modal deliveries? The ever-changing landscape of global transit can be a maze. Real-time updates aren't just a luxury. They're essential for proactive management.
Every minute spent in the dark about a shipment's location can ripple into hours of re-planning. Worse yet, it might leave your clients in limbo, especially when the stakes are high, and timelines are tight.
We grasp the weight of these moments. The real issue to address is: Is your current system offering you a clear window into your shipments' journey, allowing immediate actions and swift decisions?
Boost your On-Time delivery competence by Live Tracking of shipments with our Real-Time In-transit Visibility technology

Empower Your Supply Chain with 20High's Real-Time Visibility!
Venture into the dynamic realm of real-time shipment tracking with 20High, the pinnacle of precision in in-transit visibility solutions. Every aspect of our platform is tailored to provide shippers, freight forwarders, and 3PLs with intuitive tools to monitor shipments with unmatched clarity.
With 20High, you don't merely observe; you interact. Pinpoint your shipments using various references like order numbers, tracking IDs, or any available identifiers. Visualize intricate routes, and effortlessly trace back steps to understand the complete journey of each consignment. Gaze upon the live map view, not just as a passive spectator, but as an active decision-maker, instantly gauging the real-time locations of multiple shipments and the significant events like picking and packing along the chosen routes.
But that's not all; anticipate challenges and plan ahead with our predictive arrival time functionality, ensuring that your containers, trucks, or freight reach their intended destination in impeccable time.
With 20High, you gain foresight, clarity, and unmatched control over every shipment, no matter how complex. Revolutionize your shipment tracking and transform uncertainties into actionable insights.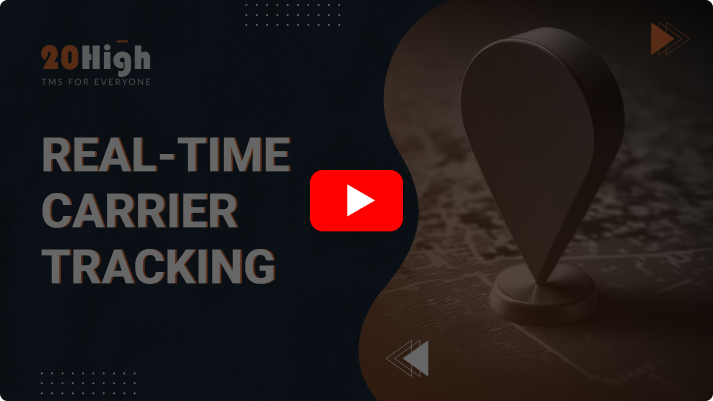 Revolutionize Shipment Tracking in Just Three Steps
With 20High, transform your real-time in-transit visibility experience,

making every shipment's journey transparent and traceable