Ever found yourself grappling with the intricacies of freight invoices?
Maybe you're a logistics manager consistently trying to ensure cost efficiencies in your shipping contracts? The labyrinth of freight billing and its accuracy is not just about numbers; it's about the trust in your logistic operations.
Every discrepancy in an invoice can lead to financial drains. Worse, it could disrupt the trust you've established with your carriers and stakeholders. More significantly, without an automated process, countless hours could be wasted in manual verifications, leading to delays in reconciliations and payments.
We understand the gravity of every cent spent and saved. The core question is: Does your current system shield you from overpaying? Does it empower you with the ability to swiftly identify and resolve discrepancies, thus enhancing your logistics efficiency?
Ensure every cent counts with precision invoicing via our Automated Freight Audit technology

Achieve Audit Excellence with 20High!
Step into the world of freight auditing with 20High, your reliable ally in ensuring every charge stands validated. Our platform exemplifies streamlined operations, providing crystal-clear insights into every invoice and associated cost.
At 20High, manual verifications become a thing of the past. Simply upload/import your invoices, and let our system handle the intricacies. Beyond mere checking, our Advanced Discrepancy Resolver swiftly identifies discrepancies, from charge anomalies to unexpected fees, arming you with actionable insights.
With 20High, every bill is meticulously examined. No discrepancies left unchecked, no ambiguities. Only absolute clarity. Elevate your freight audit process to unprecedented levels of precision.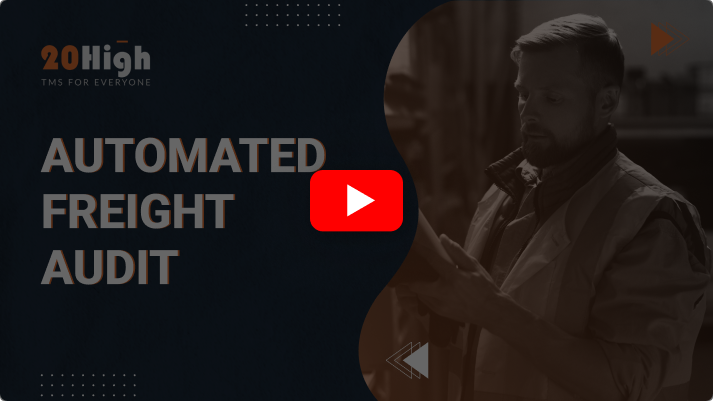 Simplify Invoice Management in Just Three Steps
Unveil true transparency in transportation costs through


automated freight audit with 20High