Are you involved in freight forwarding, LCL/LTL services, manufacturing, or distribution?
Then you know that transport costs can be a major obstacle in maximizing business profitability.
The real challenge isn't just about trimming down these costs. It's about the strategy and expertise of your load optimization techniques. Imagine: with the right strategy, you could transport the same volume of cargo with one fewer truckload every month. But, getting there requires skill and precision.
We've risen to this challenge, understanding its vast significance, especially when the industry is often wrestling with tight operational margins. So, are your optimization strategies truly cutting costs and enhancing efficiencies?
Boost efficiency with 20High! Slash up to 20% off transport costs using optimal truck or container selection and maximized utilization

Harness the Efficiency of 20High!
Discover a revolutionary approach to load optimization with 20High's intuitive heuristic algorithm. Our platform brings together advanced industrial capabilities with a clear and concise 3D visualization, comparable to top-tier TMS offerings but without the hefty price tag.
20High doesn't just stop at visualization. Seamlessly generate multiple container/truck load plans, supported by well-thought-out item orientation suggestions and a detailed stuffing blueprint. Refine your plans even further with our advanced settings: ensure balanced loads, cater to specific load requirements, and accommodate item fragility and equipment constraints.
With 20High, precision meets performance. Transform your load optimization processes and watch your operational prowess reach new heights.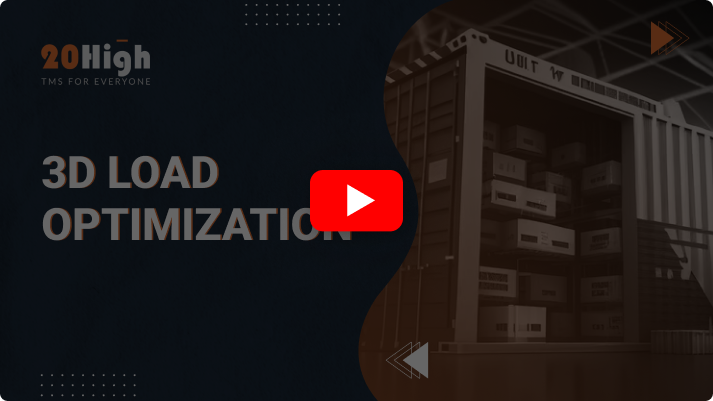 Effortless Load Optimization in Just Three Steps
Step into a new era of precision and efficiency in load planning with 20High