As a shipper or freight forwarder, have you faced challenges in providing real-time updates to end customers?
In today's logistics landscape, instant clarity on incoming freight is not just desired but essential for maintaining trust and satisfaction.
Unanswered queries or delays in shipment details can erode customer confidence. In an industry where timely information is paramount, there's no room for gaps. Without instant feedback, customers may feel sidelined, leading to more support requests and potential dissatisfaction.
Our solution? An intuitive chatbot tailored for end customers, offering immediate responses and transforming logistics complexities into effortless dialogues.
Elevate customer experience with real-time communication through our Customer Chatbot

Empower Your Customers with 20High's Dedicated Chatbot!
Step into the future of customer interaction with 20High's specialized Chatbot for end customers. Crafted with shippers and freight forwarders in mind, this chatbot ensures that your customers never feel out of the loop. By prioritizing transparent communication, we bridge the gap between complex logistics processes and the clarity your clients crave.
At 20High, we recognize the challenges of traditional shipment tracking and information retrieval. Our chatbot simplifies this, enabling your customers to effortlessly converse and obtain precise details about their shipments. Thanks to our Advanced Response Algorithm, the chatbot doesn't just answer—it anticipates, offering a proactive insight-driven experience.
With 20High's Chatbot, empower your customers with real-time, accessible, and accurate logistics details. Elevate their experience, ensuring they're always informed and satisfied.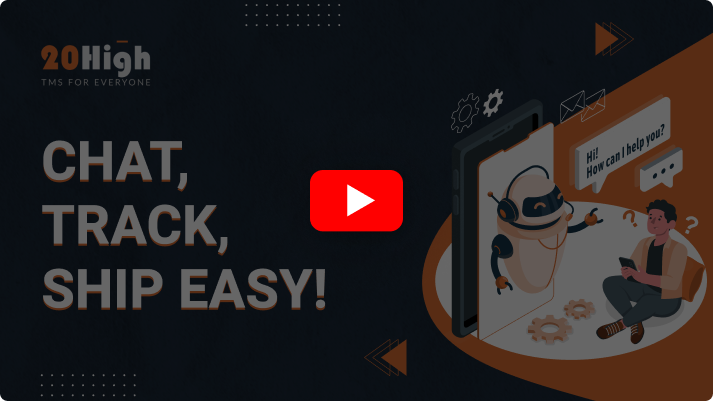 Seamless User Interactions in Just Three Steps
Elevate your customer's journey from Query to Clarity in seconds


with 20High's Chatbot interface